30+ Funniest Thanksgiving Greetings Ideas for 2023
Diving into the hilarious world of memes, GIFs, and AI-powered humor.
Thanksgiving is a time of year for gratitude, family, and feasts! Every fourth Thursday in November in the United States, friends and families gather to kick off the festive season. But let's be honest – the same old greetings can be a bit of a snooze fest. By now, you might know all the 'thanks' and 'gratefuls' by heart, right?
This year, we're spicing things up with something different. It's not just about sharing the same old "happy Thanksgiving messages" with the family chat. We're diving into the hilarious world of memes, GIFs, and AI-powered humor.
Get ready for over 30 of the freshest, funniest Thanksgiving greetings to send across the internet and add a sprinkle of joy to your holiday!
10 Funny Thanksgiving Memes and GIFs 2023
In the digital age, nothing conveys sentiments quite like memes and GIFs, and Thanksgiving brings a plethora of these images. They say a picture is worth a thousand words, and it's amazing how it can perfectly capture the feelings of overeating, family discussions, and the inevitable food coma that always seems to follow a Thanksgiving meal.
Below, we've gathered some of our favorite seasonal memes and GIFs for you to download and share with your loved ones to express your Thanksgiving mood:
1. When life gives you one biscuit instead of two on Thanksgiving
2. When you're too fabulous for a regular Thanksgiving feast
3. When Monica takes 'dressing up for Thanksgiving' literally!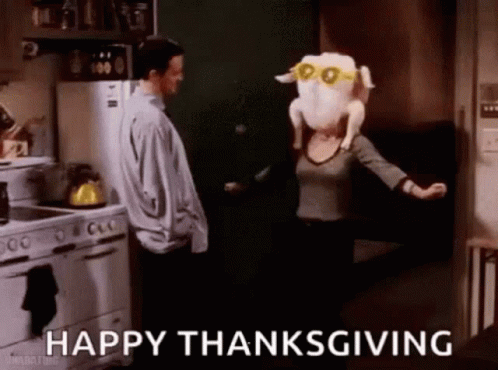 4. There's always room for more
How to Design Your Own Thanksgiving Card
But why stop at ready-made GIFs and memes? This year, create something unforgettable and deeply personal with Unboring by Reface.
🍗
Unboring is an easy-to-use platform that allows you to bring life to your photos through face swaps and animation. With Unboring, you'll be able to personalize your holiday greetings by adding inside jokes and messages that truly capture the essence of your relationships.
Here's an easy step-by-step guide to creating your masterpiece with Unboring:
Explore the Platform: Unboring offers a wide range of templates to choose from, including a face-swap Thanksgiving collection that will be sure to put a smile on your loved ones' faces. Start by going to the Face-Swap Page.
Go to 'Explore catalog' at the top of the page.
Find Your Perfect Template: In the catalog, you'll be able to see all the categories of images Unboring offers you to swap faces with, from the viral yearbook trend to 80's disco fever. Click on the one titled 'Thanksgiving'.
Discover the Magic of Face Swap: Using advanced AI face-swapping technology, Unboring lets you face swap in just a matter of seconds. All you have to do is select an image by clicking on it, adding an image of your face (or someone else's!) by clicking the yellow box with the plus sign and clicking the yellow 'Swap faces' button.
Get Your Face-Swapped Masterpiece: Once your image has been generated, you'll want to make sure it's perfect and conveys the right message. Once you're happy with it, click 'Download' to make sure it never gets lost.
Also, You Can Animate your Thanksgiving Greeting Card with Unboring Animate Feature.
And that's all it takes! Unboring makes the creation of Thanksgiving greetings easier than ever. It's a great way of adding a little piece of yourself into every message you send. We've even created a few examples for you to use:
Pumpkin spice and everything nice. Happy Thanksgiving with Unboring AI Postcards:
10 Thanksgiving Messages for Family
As we sit down at the dinner table with our beloved family members, expressing gratitude and love is essential. But for those who aren't able to attend, here are ten heartfelt Thanksgiving messages to family members you can share to let them know they are cherished and missed during this special time.
1. Happy Thanksgiving! May your stuffing be savory, your cranberries be sweet, your potatoes creamy, and your pie from Grandma's secret recipe! Here's to a fantastic feast shared with the best family ever! 🦃🍗
2. This Thanksgiving, let's cherish the moments of laughter, family gossip at the dinner table, and the times Uncle Bob tries to dodge doing the dishes. Love and turkey hugs to all! 🍇🧁🥂
3. As we gather around the table, I'm thankful for the priceless memories and chaos that make our family unique. Wishing everyone a belly as full as our hearts!
4. Thanksgiving Alert: It's time to switch my diet status to 'stuffing mode!' May we all have a holiday as abundant as Grandpa's turkey and as sweet as Mom's pumpkin pie!🌽🥧
5. From one grateful pumpkin to all the others, I wish you a Thanksgiving filled with harvest joy, abundant food, and a family bond that gets stronger through the years! 🍂🍁
6. This holiday, let's express our gratitude for awkward family conversations, uncontrollable laughter, and the love that ties everything together. Happy Thanksgiving to my irreplaceable family! 🍴🎃🍷
7. May our forks be as sharp as Grandma's wit, our plates as full as our hearts, and our food as tasty as the gossip from the cousins' table! Happy Thanksgiving, dear family! 🥖🧣🍪
8. Here's to another year of giving thanks for our blessings, cracking dad jokes, and making unforgettable memories. I'm forever grateful to be part of this crazy, fun-loving family! 🍽️ 🥧
9. A toast to the family! Together, we eat, we laugh, we argue, and we love. May this Thanksgiving remind us of the incredible journey we've shared and the beautiful memories yet to create. 🥂
10. To my wonderful family, may we all have a happy heart and a healthy appetite this Thanksgiving! Grateful and stuffed... just how it should be! 🍇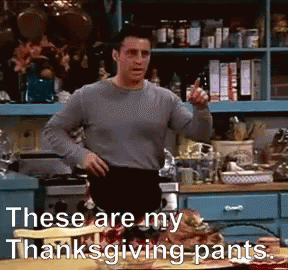 10 Thanksgiving Messages for Friends
Friends are the family we choose, and they deserve messages that reflect that sentiment this holiday season. Here are some examples of Thanksgiving messages to friends you could send to show them just how much you appreciate their presence in your life.
1. Happy Turkey Day! Let's make a pact to eat until we need new pants. And even then, let's keep eating!🥂🧡
2. Thanksgiving: Bringing out the best of family dramas since 1621. Can't wait to gossip about it with you! Happy feasting! 🌽🥔
3. Cheers to a harvest of binge-eating, endless laughter, and our unbeatable friendship. So grateful that you're part of my tribe!🏈
4. Happy Thanksgiving! If you need advice on getting away with a third serving of pie, you know who to text. 🧁
5. On this Thanksgiving Day, I'm thankful for our friendship and the fact that I'm not the turkey we're feasting on! Enjoy!
6. Sending you a high-five from across the miles for being such an awesome friend. Too bad it's not a high-five to share pie. Happy Thanksgiving!🍂🍒
7. May your stuffing be tasty and your turkey plump. May your potatoes and gravy lack any lumps. Most importantly, may your Thanksgiving dinner stay off your rump! Cheers to good food and even better friends!🥧🥂
8. Here's to giving thanks and to having a friend who loves pie as much as I do. I hope your Thanksgiving is filled with plenty of yumminess!🍁
9. If anyone deserves a wishbone, it's you, buddy. May all your Thanksgiving wishes come true because no one else I know is more deserving!🥕🎃
10. Thanksgiving is incomplete without a heartfelt message to a fantastic friend. You add the sparkle to my holiday season, and I'm so grateful for the fun and joy you bring into my life. Here's to more adventures together!🥖🥗
---
To sum up, Thanksgiving is not just a holiday when we indulge in good food; it's a heartfelt celebration of gratitude, shared laughter, and love.
This year, we suggest adding a personal touch to your greetings. Explore funny GIFs, design your own cards with you face, or animate a family photo to bring laughter to everyone.
Make this Thanksgiving memorable and uniquely yours. Happy Thanksgiving!